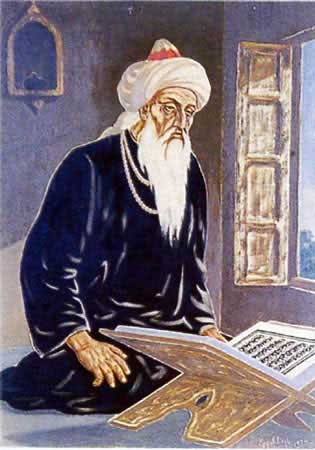 Baba Farid
Hazrat Baba Fariduddin Masood Ganjshakar
Dari
حضرت بابا فرید الدّین مسعود گنج شکر
, Punjabi
ਫ਼ਰੀਦ-ਉਦ-ਦੀਨ ਗੰਜਸ਼ਕਰ
) (1173-1266) or (1188 (584 Hijri) - May 7, 1280 (679 T-lijri)), commonly known as
Baba Farid
(Punjabi:
بابا فرید
,
ਬਾਬਾ ਫ਼ਰੀਦ
) was a 12-th century Sufi preacher and saint of Chishti Order, from South Asia.
He is recognised as the first major poet of the Punjabi language. Baba Farid is considered one of the holiest and pivotal saints of the Punjab region; today he is revered among both Muslims and Sikhs. In Sikhism, he is one of 15 Sikh Bhagats, whose works have been incorporated in Sikh Holy Book, the Guru Granth Sahib.
'Faridia Islamic University', at Sahiwal, Pakistan is name after him, and in July 1998, the Punjab Government in India, established the Baba Farid University of Health Sciences at Faridkot, the city which itself was named after him.
His Ancestors
He was the grandson of Shaykh Shoaib who was the grandson of Farrukh Shah Kabuli, the king of Kabul and Ghazni, who was the grandson of Saint Ibrahim Bin Adham who was the descendant of Caliph Umar bin al-Khattab. Baba Farid was born around 1170 in Afghanistan. He was the descended of Farrukh Shah, King of Afghanistan and Ghazni. Baba Farid 's great grandfather was the son of Farrukh Shah Kabuli. He was killed along with most of his family members when the Mongol hordes invaded Kabul. Baba Farid's grandfather Shaykh Shoaib left Afghanistan and settled in Punjab in 1125.
1. Umar Bin Khattab, second Caliph
2. Abdullah Bin Umar
3. Nasir
4. Sulaiman
5. Adham, King of Balkh and Bukhara
6. Ibrahim Bin Adham aka Abou Ben Adham
7. Ishaq
8. Abul Fatah
9. Abdullah Waa'iz Kobra
10. Abdullah Waa'iz Soghra
11. Masood
12. Sulaiman
13. Ishaq
14. Mohammad
15. Naseeruddin
16. Farrukh Shah Kabuli, King of Afghanistan
17. Shahabuddin Kabuli
18. Mohammed
19. Yousuf
20. Ahmed, died fighting Hulagu Khan
21. Shoaib
22. Jamaluddin Sulaiman
23. Baba Fareed
Biography
Baba Fareed was born in 1188 or 1173 CE (584 Hijri) at Kothewal village, 10 km from Multan in the Punjab region of Pakistan, to Jamal-ud-din Suleiman and Maryam Bibi (Qarsum Bibi), daughter of Sheikh Wajih-ud-din Khojendi. He was a descendant of Farrukh Shah Kabuli, the King of Afghanistan.
According to a legend, it was his mother, who inspired young Farid towards prayer, by placing
Shakar
(sugar) under his prayer mat, and when she didn't, Farid found the sugar nevertheless, this episode gave him an unmistakable spiritual fervour and later the name,
Ganj-i-Shakar
, meaning 'Treasure of Sweetness' (
Shakar
). Shaikh Shoaib was nephew of Sultan Mahmud Ghaznavi.
Baba Farid received his early education at Multan, which had become a centre for education; it was here that he met his master murshid, Qutbuddin Bakhtiar Kaki, a noted Sufi saint, who was passing through Multan, from Bagdad on way to Delhi. Farid wanted to leave with him for Delhi immediately, but Kaki advised him to first finish his education. Thereafter, he left for Sistan, and Kandahar for his further studies. At 16, he also went to Mecca for the Hajj pilgrimage. Once his education was over, he shifted to Delhi, where he practiced austerities, and learned the doctrine of his Master, Qutbuddin Bakhtiar Kaki. But the bustling city of Delhi didn't suit him well, and he decided to move to a quieter place, he chose, Hansi, Haryana, where he stayed for a while.
Meanwhile, Qutbuddin Bakhtiar Kaki died in 1235, so he left Hansi, and assumed the role of spiritual successor of his Master, though he left Delhi again, this time for Ajodhan (the present Pakpattan, Pakistan). On his way, his stopped at a place now called, Faridkot, and did penance for 40 days, near the fort of King 'Mokhal', then under construction. The king was so impressed by his presence that he named the city, after Baba Farid, instead of 'Mokhalpur', and the place is still called, 'Tilla Baba Farid', and 'Baba Sheikh Farid Aagman Purb Mela' is celebrated in September, each year, commemorating his arrival in the city.
It was here that he met the 20-year old, Nizamuddin Auliya, who went on to become his disciple, and later his successor (khalifa). Soon the city, received the name, Baba Farid's 'Pak Pattan', meaning Pure City, which in time became its present name, though some sources suggest, it comes from its another meaning, 'Holy Ferry'.
Baba Farid married Hazabara, daughter of Sultan Nasiruddin Mahmud. He died on 5th of Muharram, Tuesday, 7th May 1266 CE (679 Hijri) during Namaz. His darbar is in Dera Pindi, and his name is Khawaja Shaikh Muhammad Paak Ghareeb Nawaz. "There is only one Fareed, though many spring forth from the bud of the flower".
Baba Farid was a very pious and religious man, of impeccable character, humble and people's poet. He was poor and led a simple life. His piety and his character attracted people to Sufism.
Amongst, famous people who visited his shrine over the centuries, are famous scholar-explorer, Ibn Battuta, who visited in 1334, and Founder of Sikhism, Guru Nanak Dev, who met then head of the shrine, Sheikh Ibrahim, twice, and his meeting lead to the incorporation of 122 verses, and four poems of Baba Farid, in Sikh Holy Book, Guru Granth Sahib, by the fifth Sikh Guru, Arjan Dev in 1604.
His Shrine
Shrine of Hazrat Baba Fareed Shaker Gunj
His mazar (shrine) is the pride of Pakpattan. Khawaja Nizamuddin Aulia constructed his tomb. Mazar has two doors, namely Noori darwaza and Bahishti darwaza. Bahishti darwaza opens once a year and during the fair thousands of people pass through it. It (door) is made of silver and floral designs are laid in gold sheet. Thousands of devotees come to visit the shrine daily from within the country and from abroad. His
urs
(death anniversary) is celebrated every year on the 5th, 6th and 7th of Muharram.
He Himself is Master and Disciple
He was the spiritual disciple and
Khalifa
(spiritual successor) of Qutbuddin Bakhtiar Kaki who was the disciple and
Khalifa
of Khawaja Moinuddin Chishti who was the disciple and
Khalifa
of Sheikh Usmaan Haruni.
His Students
He was the spiritual master of Nizamuddin Auliya (who was the Master of Amir Khusro and Nasiruddin Chirag-e-Delhi), his sister's son Alauddin Sabir Kaliyari(Master of Shamsuddin).
His Descendants
His descendants, also known as Fareedi, Fareedies and Faridy, mostly carry the name Farooqi. They are all over India and can also be found all over the world including Pakistan and Australia. However those still looking after his shrine are better known as Diwans.
Baba Farid's place in Sikhism and Gurbani
Baba Farid has been honoured by the Gurus of Sikhism by his verses being collected and compiled in the Sikh holy Guru Granth Sahib under the chapter Farid's Sayings by Guru Nanak Dev Ji.[16] Baba Farid's verses have been collected in the holy book Guru Granth Sahib (normally referred to as Gurbani) under the chapter Farid's sayings by Guru Nanak Dev Ji.
Verses
• Fareed, this world is beautiful, but there is a thorny garden within it.
• Fareed, do not turn around and strike those who strike you with their fists.
• Fareed, when there is greed, what love can there be? When there is greed, love is false.
•
Farid Kaaley maindey kaprey, kaala mainda wais,
Gunahan Bharehan main pheraan, Lok kahain dervish
Laden with my load of misdeeds,
I move about in the garb of black garments.
And the people see me and call me a dervish.
•
Galian chikkar door ghar, naal payarey neouney,
challaan tey bhijjay kambli, rahan ta jaaey neouney
.
My promise with my love, a long way to go and a muddy lane ahead
If I move I spoil my cloak; if I stay I break my word."
Administrator




Number of posts

: 115


Registration date :

2008-09-01




Similar topics
---
Permissions in this forum:
You
cannot
reply to topics in this forum